The Concept of the Conservation of Seawater Finds
An abstract from: The Concept of the Conservation of Seawater Finds by Andreas Rettel in The Belitung Wreck: Sunken Treasures from Tang China - pdf unpublished. New Zealand: Seabed Explorations, Ltd., 2004. All rights reserved
The concept of the conservation and restoration of a vast amount of found objects is a great task for private and state-run institutions. It would be better for various excavation finds in the world to remain hidden, because then they would not be exposed to new and variable environmental conditions, which are the cause of the continuing deterioration of the objects. This is particularly true for seawater finds.
Against this background and because of the sense of responsibility for the salvaged cultural assets of the interesting cargo from the Belitung wreck, a treatment was developed and carried through that does justice to the requirements of this special cargo.
This chapter explains the framework of the measures. In some cases that can be regarded as representative for groups of wares, I will go into the treatment of individual objects in more detail. The amount of different objects does not permit a detailed listing of their particular conservation needs.
I. Conservation and Restoration of Ceramics
a. Conservation
Seawater finds present a particular difficulty regarding conservation: Depending on their material, composition and the period they have been on the seabed, these objects have deposits and have been penetrated by substances typical of the medium seawater or have formed chemical compounds and are corroded.
Ceramic seawater finds have become saturated with salts without them entering into a chemical reaction with the components of the ceramics. They can, therefore, be removed in pure water. These salts are ineffective as long as the objects are on the seabed or stored in ideal storage conditions. If the objects dry out untreated or if they are exposed to changing storage conditions, the salts that have penetrated them are activated to move in the course of time. They accumulate beneath the denser outer layers where they can crystallize. During this process, pressure develops that can cause the denser outer layers and glazes, respectively, to exfoliate or be damaged.
To avoid this, a concept of conservation has been developed that ensures the controlled desalina- tion of the ceramics.
The kind and number of ceramics from the Belitung wreck determined the construction of the technical facilities for the conservation measures. The number of finds required a division into groups of ceramic objects according to their kilns and types. Read more...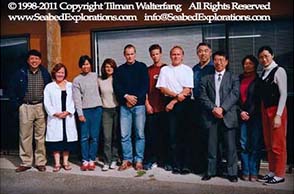 Image left: Tilman Walterfang, founder and owner of Seabed Explorations NZ Ltd. who hosted a delegation from the world famous Shanghai Museum during their visit to Seabed Exploration's conservation center in New Zealand.